1. Review Frequently Asked Questions about EOP to help answer questions you may have about the EOP admissions process and the program. 
2. Complete the EOP supplemental questions on the CSU Cal State Apply Application for Undergraduate Admissions.
3. Provide the names and e-mail addresses of two teachers or counselors who can recommend you for EOP. Recommendation questions will be sent to them by e-mail and they must submit their answers online. Recommendations must be from academic professionals.
4. Apply for financial aid by filing the Free Application for Federal Student Aid (FAFSA) or the California Dream Act Application by the CA priority filing deadline. 
Who is eligible to apply?
California residents and eligible AB 540 students who meet the income eligibility index and are a first generation college student are eligible to apply to EOP. However, due to space and resource limitations, not all eligible students will be selected.
EOP Family Income Guidelines - 2023/2024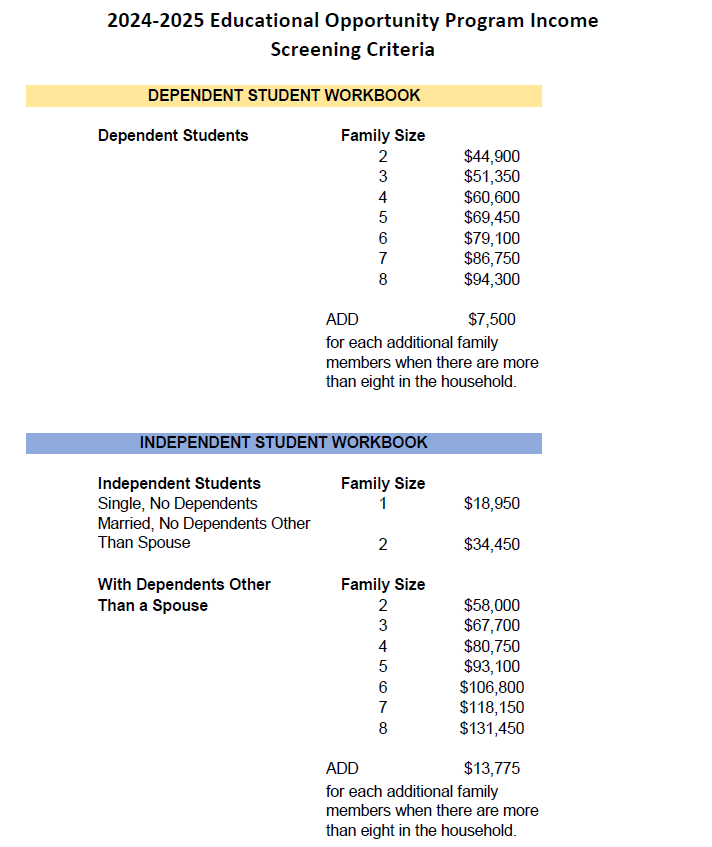 These guidelines reflect an income level that will generate an Expected Family Contribution (EFC) of approximately $1,500. For the purpose of these guidelines, the approximate contribution for dependent applicants is based solely on the parental income and does not take into account any parental assets nor does it assume any contribution from the applicant's income or assets. For independent applicants, the guidelines are based strictly on income with no consideration of available savings or other assets.
* Guidelines are based on the formulas used to determine the Expected Family Contribution (EFC) for federal student financial aid.
Financial Assistance
To be considered for the EOP State Grant, you must apply for financial aid by filing the Free Application for Federal Student Aid (FAFSA) or the California Dream Act Application by the CA priority filing deadline. EOP grants are awarded as long as funds are available and participants meet the priority filing deadline. EOP grants are awarded in October for newly admitted EOP participants and will continue to be awarded every year for up to eight semesters if you meet the guidelines agreed upon in the EOP Student Success Agreement and continue to file FAFSA or Dream Act by the priority deadline every year. 
For additional information about financial aid, please visit the Office of Student Financial Aid. 
Selection Procedures
Once your EOP file is complete, it will be reviewed carefully by a campus selection committee. The committee will consider such factors as disadvantaged background, financial need, academic performance, motivation, and potential for success in college. The committee may also look for any contribution that you have made or intend to make to your community, work experience, or the career you wish to pursue. Be sure to complete all forms accurately and assist the committee in understanding your academic preparation and motivation.
EOP at SF State only admits applicants in the Fall semester. Notification of admission to SF State and notification of admission to EOP are two separate steps. A student must first be admitted to SF State before their EOP file is reviewed. EOP begins notifying students of acceptance to the fall program in early spring and continues until space is no longer available. Students admitted to EOP will receive their notice by email.
EOP Welcome Session Participants conditionally admitted into EOP must complete a Welcome Session prior to being fully admitted into the program. Welcome sessions are scheduled throughout the months of August and September.
Frequently Asked Questions
To apply to EOP, please complete the EOP supplemental questions and both letters of recommendation included in the CSU Cal State Apply application at Cal State Apply by January 31st. 
Students need to apply to EOP the same semester they apply to SF State. If you are transferring from another CSU campus as a non-EOP student, you are ineligible for EOP.
The specific programs will contact students who have been admitted to EOP and who are eligible for the program and provide a separate application.
No. EOPS at the community college system and EOP at the CSU system are two different programs. Therefore, EOPS students must complete an EOP application.
Adobe Acrobat Reader is required to view PDF files. This is a free program available from the Adobe web site. Follow the download directions on the Adobe web site to get your copy of Adobe Acrobat Reader.